Developing a beauty product packaging line is not an easy task. A lot of detail goes into planning and creating the perfect product. It's hard to see that after a lot of hard work in selecting and sourcing ingredients and crafting the perfect recipe, there's still a lot of work left to do. The  makeup, lotion or lip balm of the new business must be put in the correct packaging before the product marketing process begins. 
Choosing the right beauty product packaging is much more difficult than choosing the cheapest or prettiest. Even seemingly random design elements, such as different materials and colours, have a real and decisive effect on the products they store.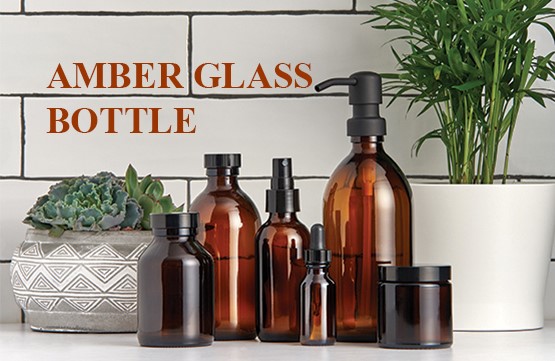 Therefore, there are many important reasons for using amber glass for cosmetic packaging. Some of these reasons are closely related to why chemically delicate essential oils are best stored in glass. Moreover, some of the same factors have led to packaging of medicines and most alcoholic beverages in amber glass.
Before studying the different reasons to use amber glass for packaging beauty products, let's have a brief look at how the amber glass is made .
A mixture of sand, soda ash and limestone is heated to very high temperatures. 

While the mixture is melting, other materials are added to give it different colours and properties.

Operators and machines shape  the liquid glass into bottles, cups or other shapes.

Glass hardens into a new shape as it cools.
Amber glass manufacturers add iron, Sulphur and carbon to this molten mixture of sand, soda ash and limestone. These components give amber glass its beautiful brown colour.
Here are the main five reasons why amber glass should be used for the packaging of beauty products:
1. Amber Glass Is Inert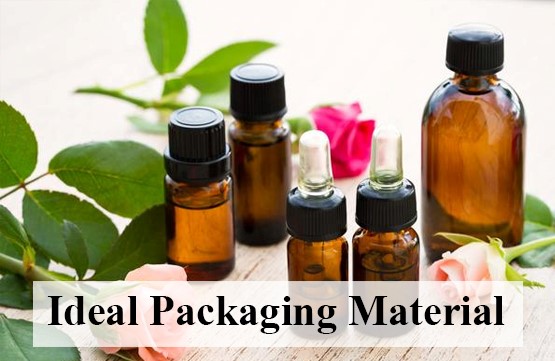 Glass is virtually inert, which means the products that come in contact with it will not change or react with it chemically, making it an ideal packaging material for a wide range of products.
Amber glass can protect the product stored inside it from damages like:
Packaging may break and contaminate contents

Sun damage

Damage in transit
Amber glass containers offer ultimate protection against all these damages as they are strong, durable and as we're going to read further, they are UV resistant as well
The amber glass bottle offers excellent protection against all three types of damage. They are strong, durable, and as we will see, they are UV resistant.
Amber glass is inert and impermeable, so there is no need to add additives to the product to prevent spoilage. Glass bottle suppliers can provide consumers with natural products and make sure they arrive in good condition by using amber glass containers
In the modern world, many people are understanding the hazards of using plastic for packaging and avoiding its use for the same reason. Therefore, glass is an amazing alternative.
2. Protection From UV Rays and Blue Light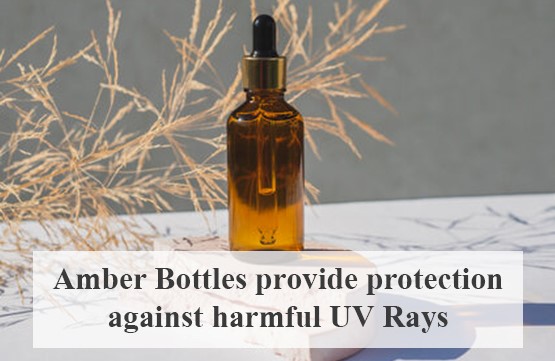 Clear glass and some other forms of coloured glass provide little or no protection against the harmful UV rays and Blue light. UV rays are harmful for the products (like beauty products) as they can possibly cause unwanted changes in the products. 
Amber glass containers are helpful in saving the products from these hazardous lights as they absorb most of the wavelengths that are shorter than 450 nm. Hence, it provides almost complete protection from UV rays.
3. Increases The Value Of The Beauty Products
Glass containers add value to the beauty products. They are visually appealing and look very aesthetic unlike plastic. Not just that, their quality is unparalleled. They look great on the shelf as well.
Amber glass containers in particular are even more visually appealing than any other clear glass containers. Especially for pharmaceutical, personal care and cosmetic products. 
Glass jar and bottles for packaging is great as it is reassuringly solid and has a glossy surface which makes it extremely tactile and the feeling one gets by holding a product in hand is exceptional.
Amber glass bottles are also an affordable option as they are made out of materials that are widely available and are also easy to supply in bulk.
4. Extremely Versatile
Amber bottles are extremely versatile as they can be used for a vast range of products. One can choose amber glass bottles for almost all types of cosmetic products as they prevent photo-oxidation occurring in alcohol-based products. 
The shape of amber bottles is round and it has straight sides which makes these bottles easy for labelling and makes rthe beauty products visually aesthetic.
5. Amber Bottles Are Sustainable
In recent years, people have become more conscious about sustainability of products. They have become highly considerate about how they will dispose of the packaging of the products that they use. The manufacturing of glass bottles for consumer products matters more than ever.
Amber glass is an ideal product for sustainability-conscious customers. It is easy and widely recycled. They don't need to make any special trips to get rid of it. Many people also love to store and use glass bottles at home. The Internet is full of ideas for decorating your home with amber glass! Many people love to collect these items to make part of their fall displays.
Order Amber Glass Bottles Today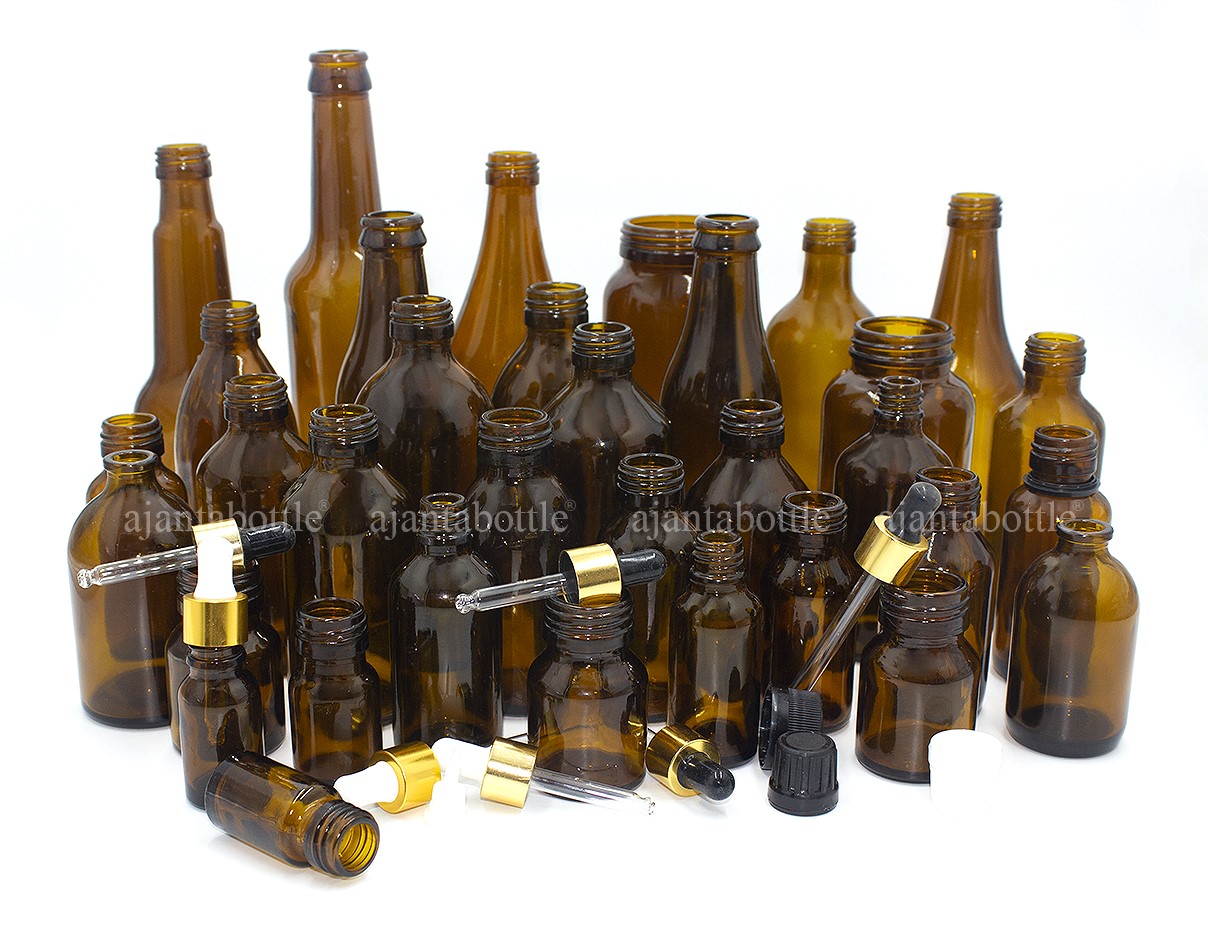 Amber glass bottles are one of the few packaging materials on the market that bridges the future with the past. Consumers can feel familiar and at ease. They are environmentally friendly and suitable for a wide range of products.
So, satisfy the needs of your customers and think better about our environment. Check out the complete range of glass amber bottles and place your order for glass bottles in bulk today!
#amberbottles #amberbottlemanufacturer #amberbottlewholesale #amberbottlereseller #bulkamberbottles #amberbottlejars #serumglassbottles #essentialoilglassbottles #amberbottlesupplier #glassbottlemanufacturer #glassbottlewholesale #candleglassjars #candleglassjarswholesale #candleglassjarsmanufacturer
If you have any questions or comments regarding clear/flint glass bottles, please visit https://ajantabottle.com/
For more blogs and videos on glass packaging, visit https://www.ajantabottle.com/blog/
For the latest updates on glass packaging, subscribe to our *YouTube channel: https://www.youtube.com/c/Ajantabottle 
*LinkedIn Page: https://www.linkedin.com/company/ajantabottle
*Facebook Page: https://www.facebook.com/glassbottleindia
*Instagram Page: https://www.instagram.com/ajantabottle/
To know more about glass jars and bottles, refer to India's only and first ever book on glass packaging, "Through The Glass – Past. Present. Only future" authored by our director, Mr. Deepanker Agarwal. The Amazon link to purchase the book is:
https://www.amazon.in/dp/9390757991/ref=cm_sw_r_sms_api_i_3K9513241EK3HMP4PAA8