"The bottle is the silent salesman. The consumer sees it in an ad, online or on the counter and it needs to speak to them so they think, 'I want to touch that."  – Marc Rosen
Glass Packaging for Perfumes plays a crucial role in protecting and preserving the fragrance, as well as enhancing its appeal to consumers. Designers usually go to great lengths to package fragrances in the most distinctive manner to ensure that the consumer can visually "smell" what is within a bottle. Glass packaging also allows for easy application with a roll-on, spray or dropper.
Globally, there has been a growing focus on sustainability and environmental responsibility in the beauty and cosmetics industry. Many brands have implemented recycling initiatives to reduce the carbon footprint. Glass packaging is particularly well-suited to recycling, as it can be melted down and used to create new bottles without losing its quality.
Challenge – Rising Glass Packaging Production Costs
The past two years have been tough for the glass industry. Glass production costs have skyrocketed, which, in turn, is a result of an increase in the cost of energy, raw materials, gas, and transport.
Meanwhile, the glass industry, which is very energy-demanding, has been hard hit. Energy comprises about 30 percent of the glass cost. Energy cost can have a significant impact on the manufacturing of glass bottles, as energy is required at various stages in the production process, for raw material heating, glass melting and forming, annealing, etc. In India, primarily furnace oil and natural gas is used for glass. The usage of furnace oil is regulated due to pollution norms, while the price of natural gas has skyrocketed in the last 18 months. The impact in Europe is much higher to an extent that glass plants have to shut down because of the energy crisis.
An increase in fuel costs has also contributed to an increase in the cost of glass manufacturing by increasing the cost of transporting raw materials and finished products.
Overall, increase in production costs has led us to rethink the packaging strategy and bottle design.
The Lighter, the Better
Lightweight glass bottles for perfumes are a win-win option for both manufacturers and customers, as well as the environment. Using lightweight glass saves on raw materials, weight and transport costs. Lightweight bottles typically require less raw material to produce than heavier bottles, which can result in cost savings for manufacturers, and the benefit can be passed on to the consumer in terms of price reduction.
Further, it takes less energy to transport lightweight bottles, as they weigh less, which, in turn results in fuel savings, and less CO2 emissions. As less raw materials and energy are required to manufacture lightweight bottles, it results in a more sustainable and environment friendly option.
Perfume bottles come in different sizes, shapes and designs and colours and if also made, lightweight, manufacturers can make them more distinctive. The bottles will stand out better on store shelves and help to increase brand recognition.
1. Material Saving
The reduction in weight leads to reduction in the material used to make a bottle. For example, a 100 ML perfume bottle which is being made in 200-220 grams can be reduced to 100-110 grams, leading to straight reduction by 50 per cent in the rates.  The weight can be further reduced to 80 grams also by designing it further granularly.
2. Process Saving
Process change leads to saving in the cost apart from the saving in weight. The cycle time for lightweight bottles is significantly lower than that of heavyweight bottles. In fact, the reduction in process cost can be approximately 30 per cent if the lightweight bottles are manufactured.
Sustainable Glass Packaging for Perfumes  – Gaining Momentum Globally
An increasing number of brands are looking for more sustainable solutions for their products and packaging. Of late, the cosmetics/beauty industry is going great lengths to adapt the production of Glass Packaging for their products.
Chanel's has unveiled N°1 de Chanel, a new generation of eco-responsible beauty products. N°1 de Chanel features packaging designed with sustainability in mind, without cellophane or paper leaflets. Containers are crafted with lighter-weight glass. Further, the glass packaging is printed with organic ink to reduce their carbon footprint and further minimise environmental impact.
Using the ecoLine line of lightweight glass as a base, Bormioli Luigi is launching a line of sustainable or refillable products with a concept that opens up new market prospects for glass, particularly in the healthcare and cosmetics sectors. Many of Dior's fragrances, such as J'adore, come in lightweight glass bottles with elegant designs. Yves Saint Lauren's Black Opium fragrance is packaged in a lightweight glass bottle with a sleek, modern design. Gucci's Bloom fragrance comes in a lightweight glass bottle with a floral-inspired design. Tom Ford's fragrances, such as Black Orchid, come in lightweight glass bottles with a sophisticated, luxurious design.
The way forward
Glass packaging is a popular choice for perfumes due to its ability to protect the fragrance, its durability, and its recyclability. Additionally, it has a low environmental impact, making it a sustainable choice for the perfume industry. Apart from perfumes, the scope of glass is getting widened to pack other aerosol products such as essential oils, serums, body mists, hair spray, and room fresheners. As more brands adopt sustainable packaging practices, it is likely that glass packaging will continue to be a popular choice for perfumes in the future.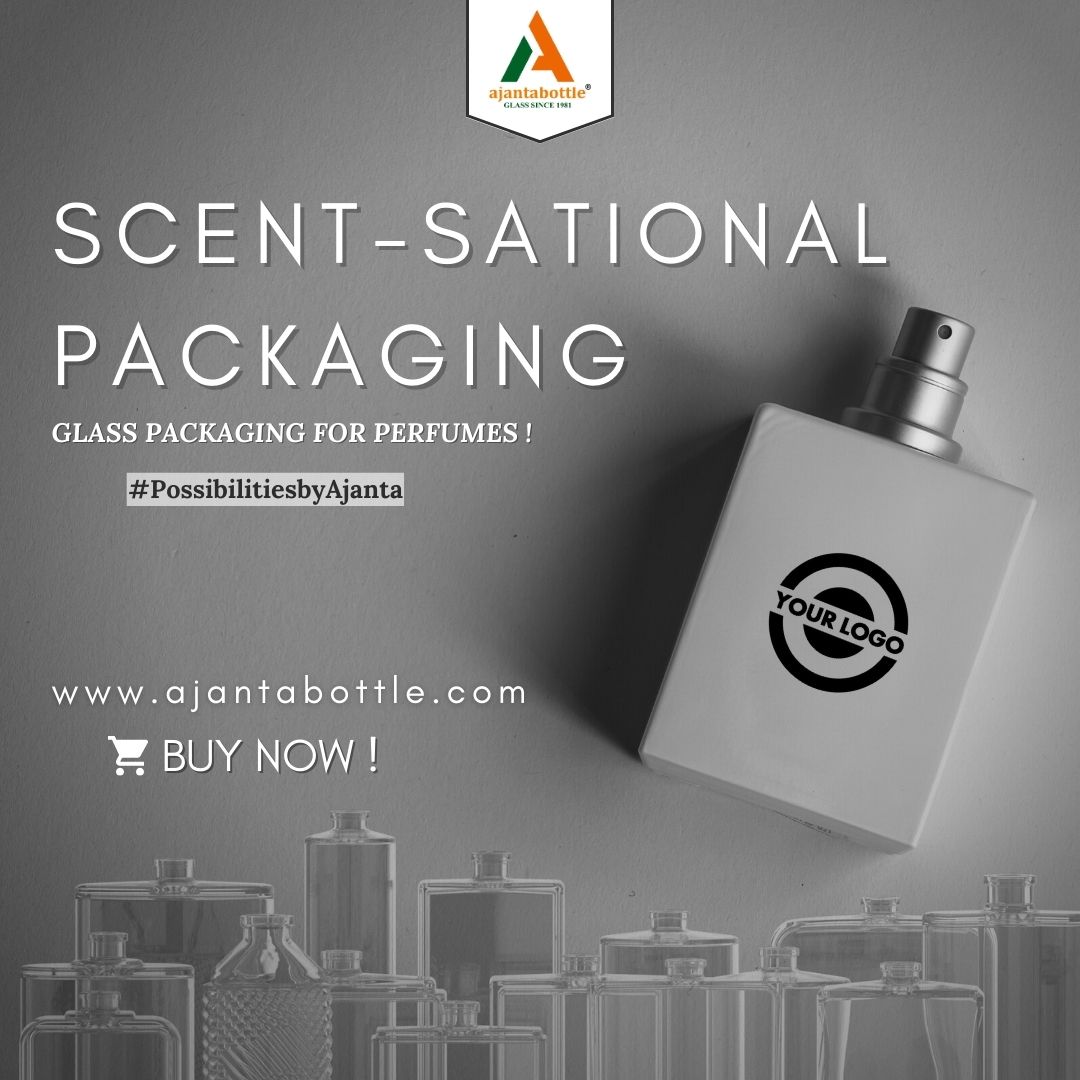 Have more questions related to perfume glass bottles? Want to know which decoration would make your perfume brand stand out? We have an expert support team to address all your questions. Connect with me on LinkedIn or email at sales@ajantabottle.com.
If you have any questions or comments regarding clear/flint glass bottles, please visit https://ajantabottle.com/
For more blogs and videos on glass packaging, visit https://www.ajantabottle.com/blog/
For the latest updates on glass packaging, subscribe to our *YouTube channel: https://www.youtube.com/c/Ajantabottle
*LinkedIn Page: https://www.linkedin.com/company/ajantabottle
*Facebook Page: https://www.facebook.com/glassbottleindia
*Instagram Page: https://www.instagram.com/ajantabottle/
To know more about glass jars and bottles, refer to India's only and first ever book on glass packaging, "Through The Glass – Past. Present. Only future" authored by our director, Mr. Deepanker Agarwal. The Amazon link to purchase the book is:
https://www.amazon.in/dp/9390757991/ref=cm_sw_r_sms_api_i_3K9513241EK3HMP4PAA8